FL350 All-Terrain Vehicle Overview
1985 Honda Odyssey FL350
Following the immense popularity of the FL250 Honda released the Odyssey FL350 ATV in early 1985, although originally intended for spring 1984. The FL350R featured many improvements including a more powerful 342 cc engine, rear suspension featuring a diagonal link and hydraulic shocks and a variable pitch torque converter transmission with neutral and reverse gears. From the picture you can see that the FL350 was an overall larger ATV with more of a dune buggy or mini sand-rail looks.
The original marketing material below shows some of the many features and upgrades with the FL350. Full specs are listed below.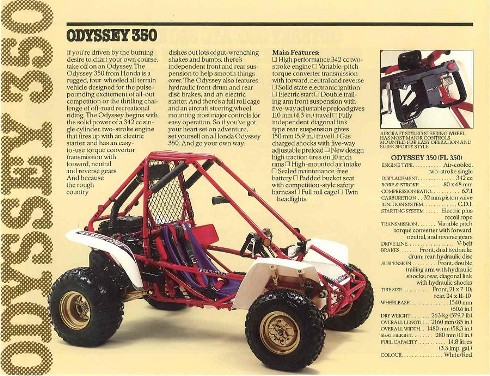 1985 FL350 Features
342cc two stroke engine
Three Speed (F-N-R) Transmission
Solid State Electronic Ignition
Electric Start
Double Trailing Arm Front Suspension w/ five-way adjustable preload
Fully Independent Diagonal Link Rear Suspension
Gas Charged Shocks
High Traction Tires on 10 inch Rims
High Mounted Air Intake
Sealed Maintenance-Free Battery
Padded Bucket Seat w/ Competition Style Saftey Harness
Full Roll Cage
Twin Headlights
Original Honda Odyssey FL350 Specifications
Engine: Air Cooled Two Stroke Single
Displacement: 342cc
Bore & Stroke: 80 x 68 mm
Compression Ratio: 6.7:1
Carburetion: 32 mm piston valve
Ignition System: C.D.I.
Starting System: Electric + Recoil Rope
Transmission: Variable Pitch Torque Converter w/ forward, neutral & reverse gears
Drive Line: V-belt
Brakes: FRONT - dual hydraulic drum / REAR - hydraulic disc
Suspension: FRONT - double trailing arm w/ hydraulic shocks / REAR - diagonal link
Tire Size: FRONT - 21 x 7-10 / REAR - 24 x 11-10
Wheelbase: 1540 mm / 60.6 in
Dry Weight: 263 kg / 579.7 lbs
Length: 2160 mm / 85 in
Width: 1480 mm / 58.3 in
Seat Height: 280 mm / 11 in
Fuel Capacity: 14.8 lit / 3.3 gal
Problems With The FL350
Problems with the FL350 led to a recall that resulted in a reduced engine size of 329cc. Overall there were many issues with the design of the FL350 that led to its short one year run. Honda decided to completely re-work the model. Four years later they released the Pilot FL400 to replace the FL350.