Ultimate Resource - Honda Odyssey All Terrain Vehicle
Welcome to OdysseyATV.com!
You have landed on the web's number one resource and online guide for classic Honda Odyssey ATVs. This includes both the go kart inspired FL250 and dune buggy driven FL350 that were made during the mid-70s and 80s. You will find a plethora of pertinent information on this site including the following material and data.
History of the Honda Odyssey ATV line
Specifications and Data for the FL250 & FL350
Classifieds Ads Page with Current Honda Odyssey ATVs For Sale
Resources for where to find OEM and Aftermarket Parts
General info about All Terrain Vehicles, Go Karts and Dune Buggies
If you have landed on this site there is a good chance you are looking to purchase a used Honda Odyssey ATV. Finding one is rare, especially in working condition; however we update this site on a regular basis with the various classifieds listings across the United States. This includes Odyssey ATVs for sale on Craigslist in every city along with eBay and ATV Trader Online. Check out our For Sale page to see the current listings. If you are looking to sell your Honda Odyssey ATV and would like to have it featured here free of charge, be sure to Contact us.
Perhaps you have reached this page because you are looking to purchase parts. Be sure to check out our Parts page for places to find used OEM parts for restoration or new aftermarket parts and accessories.
Feel free to read on below for a brief history of the Honda Odyssey ATV along with specs guides for the various models. Please browse through this site and should any questions arise or you have input for us, do not hesitate to send us a message. Thank you for visiting OdysseyATV.com!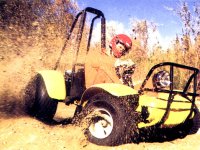 Honda Odyssey ATV: A Brief History
The FL250 was the first model produced and was made from 1976 to 1984. It featured a 250 cc (248) air-cooled engine, thus being denoted as the FL250. During these early years it was considered a go cart, despite having more power. In 1982 Honda added a roll cage upgrading the FL250 to dune buggy status.
The FL350 came to market in 1984 with a 342cc engine however was recalled and reduced to 329cc. Various other improvements were made to the FL350 giving it more of the true off-road racing capabilities of a dune buggy. Despite being improved, there were still many issues with the FL350 which led Honda to discontinue the line. It was reintroduced 4 years later in 1989 with the FL400 Pilot. Like the FL350 however, the FL400 had a short run due to increased injury and deaths related to the increase power and speed of the Pilot.
Honda Odyssey Forum
Unfortunately there is not a very active dedicated forum for the Honda Odyssey ATV. This may be due partly because of the rarity and obscurity of the model but also perhaps because no one has developed a user friendly experience yet. Based on the reception of this we will look at adding a dedicated forum page, however for now here are a few resources for you to check out.
HondaATVForums.net - General to Honda ATVs
HondaOdysseyForums.com - Specific to Odyssey ATV but not very active user base
OdysseyPilot.com - Contains Dedicated Odyssey Categories
ATVConnection.com - Generic ATV Forum